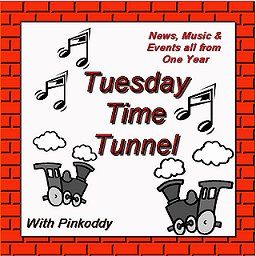 This week PinkOddy is unavailable to host this weeks Tuesday Time Tunnel so she has asked me to host it which I am very happy to do. (Fingers crossed it works ok)
Have fun guessing and please add your link at the bottom.
News
Bill Clinton succeeds George Bush as the 42nd President of the United States.
Two-year-old James Bulger is abducted, tortured and murdered by two 10-year-old boys, Jon Venables and Robert Thompson.
Tennis star Monica Seles is stabbed in the back by an obsessed fan of rival Steffi Graf at a tournament in Hamburg, Germany.
The Queen announces that Buckingham Palace will open to the public for the first time.
Graham Taylor resigns as manager of the England football team after three years in charge.
Births
Zayn Malik, British singer of the band call One Direction
Liam Payne member of One Direction
Deaths
Audrey Hepburn, Belgian born British-Dutch actress
André the Giant, French professional wrestler
Bobby Moore, English footballer
James Hunt, British race car driver
Films
Jurassic Park
Mrs Doubtfire
The Fugitive
Music
 Can you guess the year?